ISLA in Conversation with Nina Moylett
The ISLA team are proud to collectively be part of an inclusive workforce. To celebrate this year's International Women's Day, ISLA's Tina Baker (Head of Legal Services), Chris Rayner (Senior Associate – Market Infrastructure & Technology), and Claudia Cavallo (Associate – Marketing & Communications), who form part of the ISLA DEI Steering Group, speak with Nina Moylett (Head of Cash & Currency, M&G Investments), about the challenges women face in the finance industry. What follows are Nina's experiences and opinions to the questions posed by the ISLA team.
Lack of equity has been and still is a factor in many industries, but why do you think it is only now being recognised as an important initiative in financial services?
I think this is a natural step in the evolution of financial services firms coupled with a clear expectation from employees, both prospective and existing. Equity enables appropriate equality between everyone without the inequalities that society can perpetuate and offers varying levels of support depending upon the need to achieve greater fairness of outcomes. To create a truly diverse workplace accessing talent pools that are representative of broader society is critical and with that comes that need to both better understand and provide a framework within which to address lack of equity.
The securities finance industry appears to have less gender diversity than other areas of financial service, do you agree and if so, why do you think this is the case?
I do agree and this is a something that I have been very conscious of when looking at the membership make-up of the BoE Securities Lending Committee. It's not easy to identify a specific root cause but I do believe talent management programmes and recruitment approaches hold the key to longer term structural change.
Making securities finance roles visible and accessible to early career programmes and at multiple entry points, whether that be apprenticeships, graduate or career returner programmes, as well as actively targeting diverse candidate pools will help lay the foundations for a longer-term diverse industry going forward.
Since the update to the UK Money Markets Code in 2021 to add best practices around diversity and inclusion, do you feel you have seen any marked change in the way the market and its participants operate?
The Code update has focused attention on best practice around diversity and inclusion and importantly created a clear and accessible standard against which firms and market participants can, and should, measure themselves. In particular, I have seen some really positive changes in the design of industry events such as panel representation (more diversity) and a more thoughtful approach to networking and client events (more accessibility).
Could you share with us some insight into the role the Investment D&I Steerco plays at M&G? What advice would you give to institutions who are looking to introduce similar committees to the workplace?
The role of the M&G Investments D&I SteerCo is a really important one. Its core remit is to support the delivery of M&G's publicly stated corporate ambition of 40% women and 20% ethnic diversity in leadership by 2025.  It does this by working closely with our Investment and HR teams to bring to life talent management programmes across the asset management business and ensure there is a strong pipeline of diverse talent coming through.
We also seek to prioritise and champion D&I initiatives that come up through the business and foster relationships through both events and engagement with our external partnerships such as Black Women in Asset Management (BWAM) and Urban Synergy.
My advice to institutions who are looking to introduce similar committees would be to have membership across a cross section of your business capturing a broad range of colleagues at all levels – it shouldn't be limited to seniority or title. Also to make the interlink between publicly stated commitments and internal initiatives so each drive and support each other.
Why do you think the financing industry would benefit from having more senior women?
All industries benefit from a diversity of voice at the senior level and it has been well documented that diverse businesses deliver stronger results. As for the financing industry specifically, given its interlink across almost all aspects of global markets it is crucial that this specialism benefits from as broad a range of perspectives and experiences as possible. Not only because it's a proven recipe for business performance but in times of market stress and or volatility and when financing markets and professionals are typically in the spotlight a diversity of thought and approach to problem solving is key.
Diversity, Equity & Inclusion is a large initiative that could potentially take us years to fully gain the benefit from; it is almost a generational problem. What role do you think that ISLA as a trade association can play in promoting DEI?
I do believe it has been a generational problem previously but the landscape has changed dramatically over the past 5 years. You only have to look at the phenomenal success and impact within securities financing  from the efforts of organisations like Women in Securities Finance to see that DEI is changing both the structure and mindset of the industry.
Trade associations like ISLA play a critical role in keeping the conversation alive, challenging established norms, promoting change and in my opinion holding the industry to account as a central voice.
When you began your career in the financing industry, did you ever imagine that you would have a leadership role in this industry?
It absolutely wasn't something I actively pursued. All leadership roles come with a huge amount of responsibility. I believe it is something you have to continuously  work at improving whilst at the same time remaining authentic and accessible. It's really hard work but also a very privileged responsibility to have.
What have been some of the challenges you have faced in your career in relation to a lack of inclusivity and what the biggest factor that has helped you to be successful?
I have been really fortunate throughout my career to have had inclusive and supportive bosses so have never really felt that lack of inclusivity has been an explicit impediment.
However, looking back, I do remember feeling the pressures of the 'one size fits all' approach to networking and social events, and being conscious of either not being able to attend or in some cases not wanting to attend!  Thankfully that dynamic has changed dramatically over the past few years and there is now a full range of access points for networking opportunities.
If you could give your 20-year-old self-one piece of advice about finding a role in this industry, what would it be?
Get as much experience as you can across different products and markets, don't be afraid to change roles and if you see something you want to do, go for it.
Finally, how do you balance career, personal life, and passions? Is there such a thing as balance?
I'm not sure I do balance it all to honest! I try to manage my home and work diary week to week and prioritise as best I can. I am very transparent about my time commitments and really promote making diary breathing space, I have learnt that back-to-back meetings are not sustainable or much fun for anyone. I have a really strong support network at home and great work colleagues both of which make the world of difference.
To see similar initiatives that the Association is involved with, view our Corporate Social Responsibility page.
About Nina Moylett
Nina Moylett is Head of Cash and Currency at M&G Investments. She is responsible for firm wide cash and currency management, the securities lending business and market execution for cash, foreign exchange and collateral related instruments.
She is acting chair of M&G's Investment D&I SteerCo and co-chair of the firms' Dealing Management Committee.
Nina also holds three external Bank of England appointments as chair of the Bank of England Securities Lending Committee (SLC), a member of the Bank of England Money Markets Committee (MMC) and member of the Foreign Exchange Joint Standing Committee (FXJSC).
Nina holds a BSc (Hons) in Economics and has over 20 years' experience in treasury roles spanning the buy side, sell side and hedge fund sector.
8 March 2023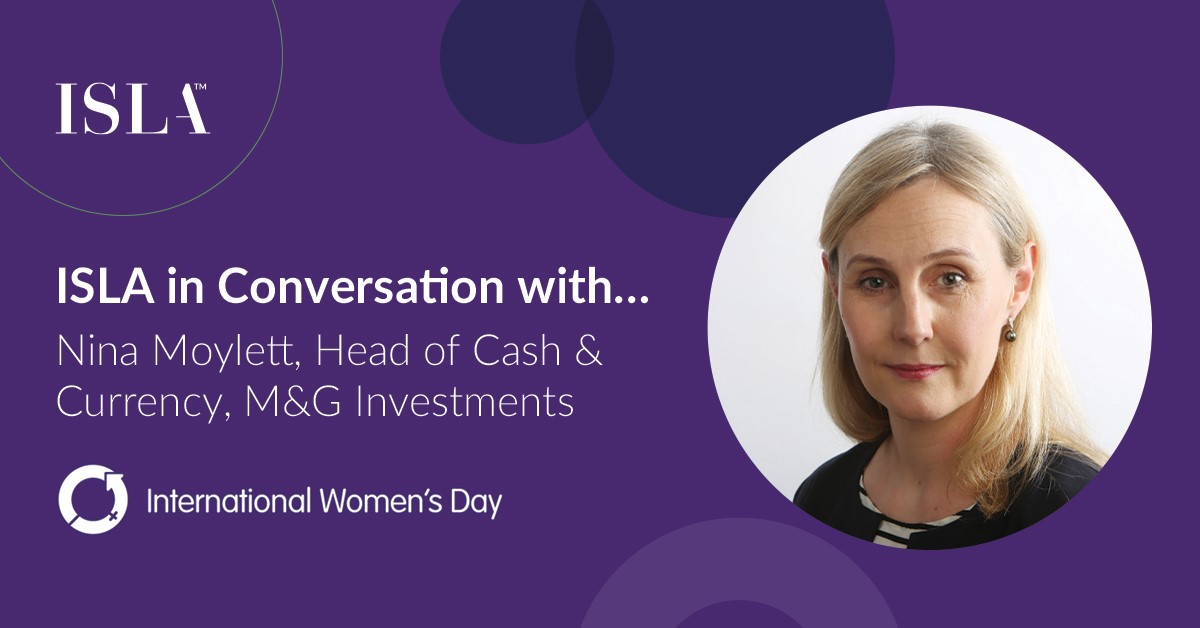 E-mail
Subscribe to our news