ISLA is pleased to announce that it has partnered with Climate Action to support the Sustainable Investment Forum Europe 2020.
As one of the largest sustainable finance and investment focused events in Europe, this timely event will bring together 400 policy makers, investors and financial institutions in the sustainable investment space. Organised in partnership with UNEP FI, the event will take place on the 10 March 2020 in Paris.
Featured topics:
• Using strategic asset allocation to achieve a 1.5 aligned portfolio
• What are the practical challenges of launching sustainable funds in Europe?
• How can sustainable finance policy help Europe avoid disaster?
• Practical solutions: Climate change matters
• Challenges and opportunities for passive and active managers in sustainable investment
• Special focus/Sharing best practices: the latest developments in green finance in Egypt
Learn from leading industry experts including:
• Johanna Raynal, Director of ESG & Impact, SwedFund
• Magnus Billing, CEO, Alecta
• Dr Mohammed Omran, Executive Chairman, Financial Regulatory Authority
• Stephen Nolan, CEO, Sustainable Nation
• Mirza Baig, Global Head of Corporate Governance, Aviva
Why should you attend?
If you want to understand how your organisation can benefit from the growth of the global green economy, gain insights into the next stage of the Paris Agreement, and play a key part in the global climate solution then join us at the Sustainable Investment Forum Europe 2020,
VIEW AGENDA, SPEAKERS, EVENT BROCHURE
Through this partnership, we are delighted to give our members complimentary VIP or discounted delegate passes. (Please see 'How to register' section in the email below for further details).
How to register:
Register as a VIP
Members of ISLA who are Institutional Investors or Government Officials are invited to apply for a complementary VIP delegate pass. Your application is subject to a review process by the organiser and you will be informed whether you have been successfully registered as a VIP Guest.
Register as a Delegate
Other members of ISLA can take advantage of the special 25% discount with the code ISLA when you register online.
If you have any questions, please contact Alfie Hill‐Kitcherside from Climate Action directly on +44 (0) 207 871 0173 or email at ahkitcherside@climateaction.org. Group rates and further discounts are available.
10 February 2020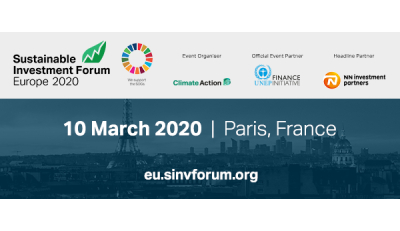 E-mail
Subscribe to our news