The International Securities Lending Association has today published a paper titled 'The LEI & Securities Finance Transaction Regulation (SFTR)'.
Against the backdrop of the Securities Financing Transaction Regulation (SFTR) that is due to go to live in 2020, the paper has been designed to provide information on the introduction of the global Legal Entity Identifier (LEI) for financial markets, and it's relevance and application more specifically around our industry.
In the context of SFTR reporting, the paper looks not only at the importance of having an issuer LEI from the perspective of lending and borrowing assets as well as collateral arrangements, it also highlights the gaps in LEI coverage today, the implications, and the work of groups such as the Global Legal Entity Identifier Foundation (GLEIF) and the Association of National Numbering Agencies (ANNA) to promote wider adoption.
To access the paper, please click here.
To view other Thought Leadership pieces, please click here.
Details of all SFTR working groups and streams can be found on the Working Groups page. Up-to-date meeting minutes, documents and external links can be found in the SFTR section of the site.
10 September 2019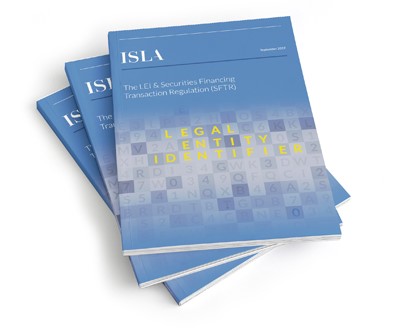 E-mail
Subscribe to our news