ISLA is pleased to announce that it has partnered with Climate Action and UNEP-FI as an official partner to support the 4th annual Sustainable Investment Forum Europe, a four part digital event series returning in April.
The Forum will convene over 1,850 asset owners and investment managers, institutional investors, pension funds, banks, development banks, policymakers, think tanks and NGOs to continue to build the momentum for sustainable finance and responsible investment.
Delivered on a sophisticated digital event platform, the Forum will encourage debate in a dynamic, engaging, and interactive way.
Why should you attend?
– Learn how investors are aligning with climate goals
– Engage and network with a range of asset owners, asset managers and senior policy makers
– Hear from influential speakers who will share views on how Europe's sustainable finance market is progressing
– Explore and compare sustainability strategies
Key speakers:
Andrew Dyson, Chief Executive Officer, The International Securities Lending Association (ISLA)
Nicholas Pfaff, Managing Director & Head of Sustainable Finance, ICMA
Eva Halvarsson, Chief Executive Officer, AP2
Chris Faint, Head of Department, Climate & Small Mutuals Division, Bank of England
Joël Prohin, Head of Investment Management Department, Asset Management Division, Caisse des dépôt
Heike Reichelt, Head of investor relations and sustainable finance, World Bank
Carine Smith Ihenacho, Chief Governance & Compliance Officer, Norges Bank Investment Management
How to register:
You can register online here. By registering through this link you will gain exclusive access to the Forum for free. If you have any questions, please contact Rachel Cooper from Climate Action directly on +44 (0) 207 871 0173 or email at rcooper@climateaction.org
2 March 2021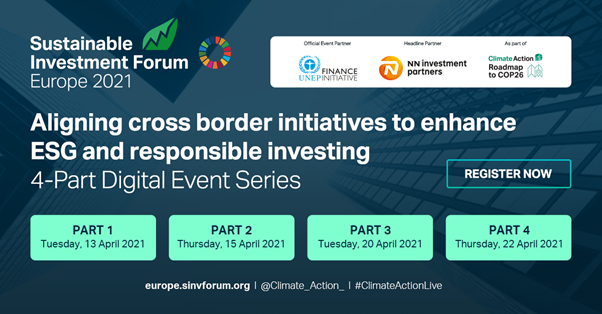 E-mail
Subscribe to our news